Dniester river basin geoportal
January 7, 2013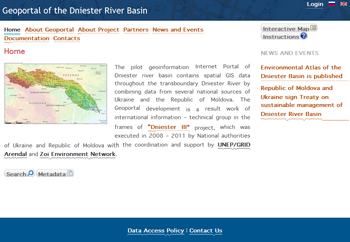 The Dniester River Basin Geoportal, launched in December 2012, is a resource for spatial data and other information for this transboundary river basin. It covers Moldova and Ukraine. Data for geographic information systems (GIS) includes maps based on background information, such as data on soils, land use and forests, as well as water-monitoring parameters.
The website was set up under the Environment and Security program headed by the Organization for Security and Co-operation in Europe (OSCE), the United Nations Environment Programme (UNEP), and the United Nations Economic Commission for Europe (UNECE).
The project was implemented by several national agencies in Moldova and Ukraine, and coordinated by UNEP/GRID-Arendal and Zoï Environment Network.
The GIS geoportal features an extensive data catalog including metadata; contact information for the agencies; maps; and a river-basin atlas. An interactive map service enables users to view the available data to learn more about the basin and its properties. To enable viewing of the available data, an interactive map service enables examining the basin and its properties.
Nordpil assisted with the migration of the geoportal following local development by a Ukrainian consultant, and by setting up the interactive map services.
The website was implemented using ESRI GeoPortal Server, ESRI ArcGIS Server, and Joomla with extensive customization.
For more information, please visit the Dniester river basin geoportal (available in both English and Russian)
http://dniester.grida.no