September 17, 2014
AMAP Assessment 2013: Arctic Ocean Acidification Overview Report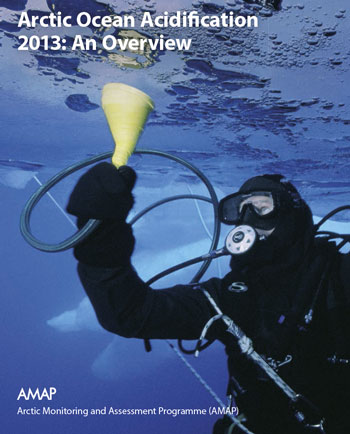 The Arctic Monitoring and Assessment Programme (AMAP) is an Arctic Council working group focusing on environmental pollution and its effects on northern wildlife, as well as on Arctic peoples.
The report Arctic Ocean Acidification 2013: An Overview presents the results of a study that includes contributions from scientists from throughout the circumpolar north.
The assessment examines how ocean acidification is affecting the Arctic seas, marine life and the peoples of the Arctic, and considers future impacts of acidification. Ocean acidification is closely linked to climate change and to rising carbon dioxide levels in the atmosphere.
Ocean acidification is occurring at a rapid and accelerating pace, and the Arctic Ocean is on the frontline of this global change. AMAP's 2013 assessment of Arctic Ocean acidification provides the first Arctic-wide perspective on today's progressively increasing seawater acidity. The assessment report presents current scientific knowledge on the changing state of ocean acidification in the Arctic and how these changes are affecting the Arctic marine environment. In addition to reporting on what is happening now, the assessment considers how these trends could continue to develop in the future and what they could mean for Arctic marine plants and animals – and Arctic peoples.
Hugo Ahlenius of Nordpil prepared maps, charts and diagrams for the report, and handled some of the data management. Illustrations were prepared using GIS data delivered from scientists, as well as marine measurements visualized using Ocean Data Viewer.
For more information, please see the AMAP website:
http://www.amap.no/documents/doc/arctic-ocean-acidification-2013-an-overview/1061