November 11, 2009
COP15 workshop - agenda revised + deadline extended

We are happy to announce that John Carstensen, Chief Executive of Society for the Environment, will contribute one session to this workshop, and the agenda has been revised to include that. The title of his session is Communicating messages to policy and decision makers. John has a background in working for the UN Environment Programme and the Danish government.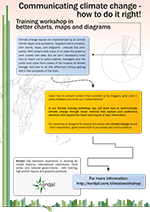 Flyer for the COP15 workshop
pdf download,
or
view this flyer directly (Scribd).
There are still places left, and we have extended the registration deadline until November 20, or until the workshop is fully booked. Seating is limited.
For full information, including registration form, agenda and practical details, please refer to https://nordpil.com/cop15.