October 16, 2009
Creating convincing charts, maps and diagrams on climate change – workshop in Brussels, November 10, 2009
Full day workshop on communicating climate change issues in maps, graphics and charts, in Brussels on November 10, 2009.
In addition to the previously announced workshop in Copenhagen, we are happy to announce another date.
To build capacity in explaining and illustrating climate change, Envalue and Nordpil have joined forces to hold a full-day workshop on effective communication of climate change.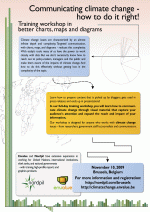 Flyer for the Brussels workshop
pdf download,
or
view this flyer directly (Scribd).
In the workshop, participants will learn how to communicate climate change through visual material that captures the audience's attention, expanding the reach and impact of information. The workshop is designed for anyone who works with climate change issues – from researchers and government staff to journalists and communicators.
The workshop will be held place in Brussels on November 10, 2009. For full details and registration, go to https://nordpil.com/brussels
Rather than focusing on technical proficiency in software handling, the workshop focuses on background and theory as well as what to achieve (and why), but not necessarily how to achieve it. The day ends with a show-and-tell session in which we view, discuss and analyze examples of communication that works and that doesn't work, with samples provided by the participants and organizers.
Workshop leaders Marianne Fernagut of Envalue and Hugo Ahlenius of Nordpil have extensive experience in working for the United Nations, inter­national institutions, think tanks, and national governments – with in-depth knowledge of global environmental issues and graphics products.
The previously announced workshop in Copenhagen is scheduled to take place just before the COP15 climate change meeting, on December 4 2009. For more information, please refer to https://nordpil.com/cop15.
For more information, contact:
Hugo Ahlenius, Nordpil on Tel: +46757575284 or e-mail: hugo.ahlenius(at-sign)nordpil.com, https://nordpil.com
Marianne Fernagut, Envalue on Tel: +32486881018 or e-mail: marianne.fernagut(at-sign)envalue.be, http://www.envalue.be
---
Organizers

Nordpil
Nordpil specializes in custom map design and illustrations in the form of charts and diagrams. We have contributed visual material for major international reports issued by the OECD, United Nations and World Resources Institute. Graphics prepared by Nordpil have been published by major newspapers and magazines, and are being used by organizations around the world.

Envalue
Envalue has extensive professional experience managing international environment and development projects – working with the United Nations, international NGOs and think tanks, governments and research institutions in environmental communication and assessment.