New product - Stockholm papercraft map
August 7, 2013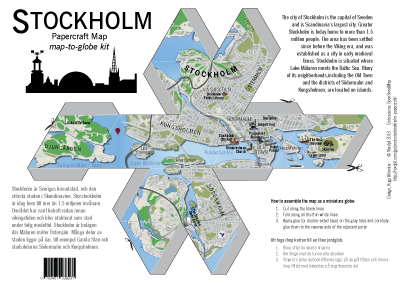 Nordpil is proud to present the Stockholm Papercraft Map, the first product we have published ourselves.
This map was designed from scratch by Hugo Ahlenius using free geospatial data from the OpenStreetMap database. The map features a unique foldable design.
Assembly is simple. All you need is scissors and glue. As you cut and fold the map, it transforms into a 20-sided paper globe, about 12 cm (4.7") in diameter. The simple assembly requires scissors and glue - by cutting and folding the map, and then glueing the tabs it transforms into a twenty-sided paper globe, with a diameter of approximately 12 cm/4.7 in).
The kit is sold as an A3-size sheet (29.7 x 42 cm or 11.7 x 16.5").
Assemble this Stockholm souvenir just for the fun of it, or mark the places you've visited and the sites you've seen!
We are actively looking for distributors and resellers, both online and for sale in stores in the Stockholm area and beyond.
The map is available to order online. Major credit cards are accepted (payment through PayPal). Price: SEK 85/USD 13/EUR 10 (including VAT/moms for Swedish and EU orders).
To learn more about the Stockholm Papercraft Map, and to order, please see the product page
http://nordpil.com/products/stockholm-papercraft/