May 14, 2009
Nordpil maps published by UArctic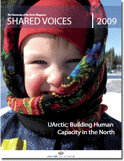 The most recent University of the Arctic newsletter, Shared Voices, features several custom maps prepared by Nordpil as cartographer - in close cooperation with the UArctic secretariat. The maps present the width and span of the networks included in the University and the numerous participating institutions. Nordpil acted as a freelance cartographer and consultant in map design in this project.
We were given tables with network connections which had to be normalized and mapped out fully, including locating many of the participating institutions. The data were prepared and projected to match the existing UArctic background map, and the network connections were represented on the map, criss-crossing the pole like a spider's web. The final map designs were completed and presented to the secretariat - including the assembled database of institutions and network connections.
The University of the Arctic represents a network of more than 100 institutions around the circumpolar north. Among the activities included under this umbrella are the numerous thematic networks that connect universities, other institutes of higher education and other partners, and this is represented as an overview in the maps.
We have posted one of the maps from this set in the portfolio area, or you can view the newsletter online on the University of the Arctic website. Please refer to the publication list for full details.