Open Source GIS Sweden 2013
September 19, 2013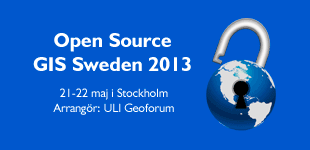 Hugo Ahlenius was invited to speak at the Open Source GIS Sweden 2013 conference in May. The conference, organized by ULI Geoforum, gathered actors involved in Geographic Information Systems (GIS) using open source solutions in Sweden.
Hugo Ahlenius presented best practices and methods for clear and powerful interactive maps, in a session on web cartography using open source GIS solutions, such as OpenGeo Suite.
The session was attended primarily by an audience of government practitioners and consultants. The presentation was followed by a case study from the municipality of Eskilstuna and an interactive workshop focusing on preparing templates for web cartography.