June 28, 2011
Maps and analysis of the future - Yamal and Finnmark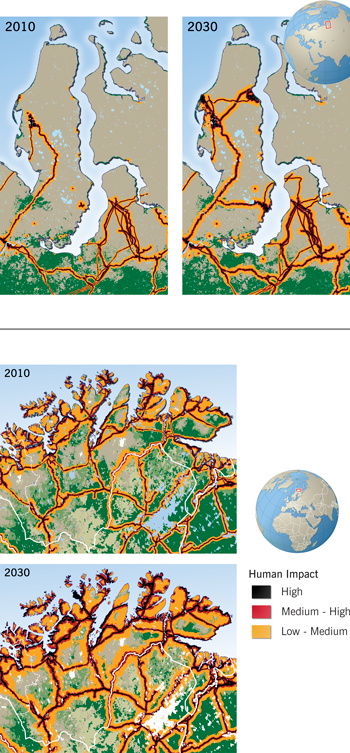 On request from the Association of World Reindeer Herders secretariat, Nordpil produced current estimates and future projections for the impact of economic activity on reindeer herding now and in 2030 for Finnmark, Norway and the Yamal peninsula in Russia.
The analysis and projections use the GLOBIO 2 methodology developed by UNEP/GRID-Arendal, UNEP-WCMC and PBL Netherlands Environmental Assessment Agency. The model uses existing and proposed infrastructure and landcover as input.
Finnmark, Norway and the Yamal peninsula in Russia are remote arctic areas, with very few inhabitants. They are mostly wilderness, with low to little environmental disturbance. Threats to the existing lifestyles of indigenous peoples in the area, where reindeer herding is the main source of income, are related to the development of hydrocarbon extraction. Future oil and gas activities will mean new roads, railroads, powerlines and pipelines.
The maps are to be included in an upcoming report from the EALÁT project. The key findings were presented to the Arctic Council at the 7th Ministerial Meeting in Nuuk, Greenland in May 2011.