September 2, 2014
UArctic Shared Voices magazine 2014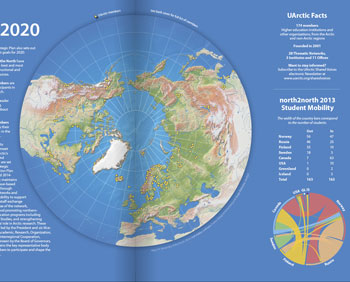 For the 2014 edition of the Shared Voices magazine, the annual newsletter and annual report of the circumpolar network of the University of the Arctic (a circumpolar network of higher educational and research institutions), Hugo Ahlenius of Nordpil prepared a set of maps and diagrams. The illustrations demonstrate the wide span of the network in a map showing its geographic distribution, as well as in a graphic on student exchanges around the Arctic.
The map showing the network members was prepared using Microsoft Access and ESRI ArcGIS, and further edited by Veli-Pekka Laitinen.
The 2013 exchange program statistics were analyzed and aggregated using Microsoft Excel and Microsoft Access, and exported for use in Circos and ESRI ArcGIS.
The map was prepared using Geographic Information Systems (GIS) software - ESRI ArcGIS/ArcMap. The cartographic design was finalized in Adobe Illustrator.
The circular diagram was done through Circos and further refined in Adobe Illustrator.
For more information and direct download of the 2014 Shared Voices magazine: