Stockholm Papercraft Map

The Stockholm Papercraft Map is a unique keepsake that forms a miniature globe – a fun activity kit for all ages! Available through resellers or by direct order. Cut it out and assemble it yourself with easy-to-follow instructions. The perfect gift for papercraft enthusiasts, tourists or friends of Stockholm.
This map was carefully designed from the ground up by Hugo Ahlenius of Nordpil, a Swedish map design and GIS company, using data from the crowdsourced OpenStreetMap geographic database. The cartography was distorted to create a one-of-a-kind foldable design.
It's easy to cut out and fold the map by following the step-by-step instructions. Next, glue or tape it into a 20-sided paper globe, about 12 cm (4.7") in diameter. The assembly is easy, but adult supervision is recommended for kids under 8.
The kit is sold as an A3-size sheet (29.7 x 42 cm or 11.7 x 16.5").
Assemble this Stockholm souvenir just for the fun of it, or mark the places you've visited and the sites you've seen!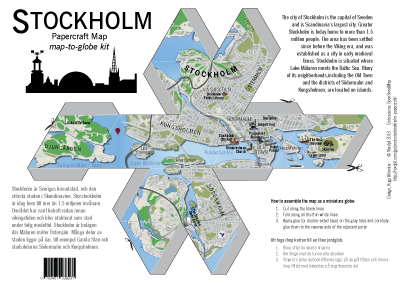 Order
The Stockholm Papercraft Map is available to order directly from Nordpil. Pay with your Visa or MasterCard, or use your PayPal account (or any other payment service accepted through PayPal).
Price: 13 USD, 10 EUR (including VAT) or 85 SEK (including moms/VAT). The order will be handled promptly once the payment is accepted. For bulk orders, see below.
If you prefer payment by Swedish bank transfer (with invoice), please order using the form below.
Bulk orders
To order larger quantities, please contact us and we will prepare a quote for you with a special rate for shipping and handling. Discounts apply when you order more than 10 kits.
Branding
Want to see your logo on the Stockholm Papercraft Map, or a map with your office locations marked? We can create a branded version for distribution to your conference participants, for sale in your chain of stores, or as a corporate gift. Contact us for further discussion!
Other papercraft maps
Do you have any ideas for variants of this map, or would you like to have a papercraft map of your own city? Send us your ideas!
Reviewers
Do you have a blog or a website, or do you represent a magazine? Or are you active in a community that could be relevant for the Stockholm Papercraft Map? We have a limited number of free review copies to share. All we ask in return is that you link to this page. Your feedback on the map's design and implementation is also very welcome. Contact us and tell us how you would review the Stockholm Papercraft Map, and please let us know the potential reach of your review.
Resellers
We are actively approaching resellers for both Internet sales and in-store sales in Stockholm. If you represent a retailer and would like to resell the Stockholm Papercraft Map, please see below.
Distributors
We are looking for distributors and new resellers, for both online and in-store sales. Please contact us for more details, pricing and information sheet.
Contact us
Send us your questions, orders and feedback! We will get back to you as soon as possible.