Communicating climate change - how to do it right!
Training workshop in better charts, maps and diagrams
Learn how to prepare content that is picked up by bloggers and featured in press releases and presentations!
In our full-day training workshop, you will learn how to communicate climate change through visual material that captures your audience's attention and expands the reach and impact of your information.
Our workshop is designed for anyone who works with climate change issues – from researchers and government staff to journalists and communicators.
Climate change issues are characterized by an almost infinite depth and complexity. Targeted communication that includes maps, graphics and diagrams reduces this complexity. Many of us now have the power to work closely with data, but we also need to know how to use that data to reach policymakers and the public. Communicating effectively without becoming lost in the complexity of the topic is also essential.
The workshops are organized by Nordpil. We will contribute our extensive experience in creating effective maps, charts, diagrams and other forms of visual science communication – as well as experience in environmental and sustainable development issues.
Dates/schedule
Please bookmark and come back and visit this page for updated information, or sign up for our mailing list to receive the latest dates. Would you like us to hold a workshop in your city, or at your institution? Please let us know, and we will take that into account!
There are currently no workshops scheduled.
Workshop program
The workshop consists of a full-day intensive program split into separate sessions. Rather than focusing on technical proficiency in software handling, the workshop focuses on background and theory as well as what can be achieved through graphics, but not necessarily how to achieve it.
The day ends with a show-and-tell session in which we view, discuss and analyze examples of communication that works and that doesn't work, with samples provided by the participants and organizers.
All teaching material presented in the workshop is shared with the participants, to minimize the need for extensive note-taking.
The instruction will be in English.
Call for input and partners
We are actively searching for sponsors, funding, partners and networks. Is there anything specific that you would like to see in a workshop like this? We are happy to assist with fundraising to cover travel costs and participation fees.
Custom workshop on climate change
We would be pleased to customize the workshop program to cater to the needs of your organization. Please drop us a line to start the discussion, and we will contact you shortly.
Our methodology and references
We have taken the inspiration for the workshop program and the methods we teach from a variety of sources. Most importantly, we have drawn on our own experience and backgrounds in communicating environmental and sustainable development issues.
Keywords in our visual communication philosophy are: simple, clear, focused and interesting.
Books that we recommend and that have inspired us are primarily the work of Edward Tufte, as well as Designing Better Maps by Cynthia Brewer and Communicating Science Effectively: A Practical Handbook for Integrating Visual Elements by Jane Thomas et al.
For examples of the graphics and communication products in progress at Nordpil and Envalue, please refer to our respective websites (sidebar to the right).
Contact us – sign up for announcements
Please submit your contact information to sign up for news and announcements, including updates to this page. Use the form below to contact us with your questions, input and comments. Thanks!
If you prefer to contact the organizers through phone or other means, please see the contact information for Nordpil.
Read more about our custom training workshops on environmental and sustainable development information
---
Sign up to receive updates about our workshops
---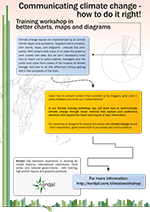 Flyer for the climate workshops
pdf download,
or
view this flyer directly (Scribd).
---
Organizer

Nordpil
Nordpil specializes in custom map design and illustrations in the form of charts and diagrams. We have contributed visual communications for major international reports published by the OECD, United Nations and World Resources Institute. Graphics prepared by Nordpil have been published by major newspapers and magazines – and are being used by organizations around the world. Read more at nordpil.com