December 29, 2009
Resources - world database of urban areas, 1950-2050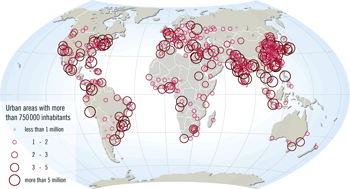 The new resources section of this website presents free downloads from Nordpil. The first entry under this heading is a georeferenced database of large urban areas from 1950-2050 with historic estimates and projections of population figures. The data is available as a spreadsheet/table, maps, for Google Earth, in an animation video and for GIS data download. The data was retrieved from the UN Population Division publication and web service World Urbanization Prospects, 2007 revision, and georeferenced using a variety of sources.
A map of the data for the year 2005 has been published in the portfolio section, presenting the situation for cities with more than 750,000 inhabitants. The map displays the population statistics as circles on a world map.
Please visit the full page for data downloads in GIS and table format, for the animation video and for Google Earth download.
The resources section will be further expanded over time with other data, scripts and tools for download.