Carbon dioxide emissions and wealth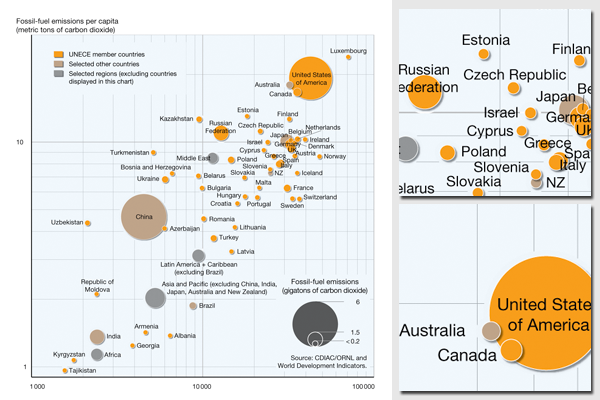 Click on the image above for high resolution view
The member states of the United Nations Economic Commission for Europe (UNECE) are some of the main emitters of greenhouse gases, with the EU, USA and Canada among others. The report Catalysing change - the UNECE response to the climate countdown, prepared for the COP15 climate conference in December 2009 summaries the activities among the UNECE members to mitigate and act on climate change. The UNECE counts 56 countries as members in Europe, North America, Central Asia, Caucasus and the Middle East - these are presented in this chart together with other regions and countries for comparison. In the chart, the bubbles are sized by area to reflect the absolute emissions. The lower presents the size of the economy, in GDP per inhabitant, while the upright axis covers carbon dioxide emissions in per inhabitant. All values are for 2007 or latest available year. From the chart, one can compare the relative wealth and emissions per capita, but also study the emissions per unit of economic output—countries lower and right have access to cleaner power sources, and releases fewer tons of CO2 per US$, while countries up and left have a higher share of e.g. coal and oil for power and heat generation.
Map illustration for the UN report
Catalysing change - the UNECE response to the climate countdown.
This complex chart presents several issues in relation to climate change and emissions of carbon dioxide (CO2). The amount of information contained in a diagram of this type is very high, and it represents dense information, suitable for a skilled and scientific-minded audience that has time to study and interpret the chart. The illustration was prepared integrating multiple data sources relating them to each other and recalculating the figures.
Microsoft Access, Microsoft Excel, Golden Software Grapher and Adobe Illustrator were used to prepare the map.
The data source for the emissions data is the CDIAC carbon dioxide emissions database, while the financial figures were retrieved from World Development Indicators Online (WDI).
For more information, please refer to:
Do you need powerful, clear and good-looking illustrations?
Nordpil specializes in creating the best maps, charts and diagrams for high-profile publications, please contact us and describe your needs, and we will get back to you with a quote.
Would you like to learn how to prepare better maps, charts and diagrams?
In our training workshops you will learn about the theory about creating powerful visual material based on scientific data and statistics, and we discuss and deconstruct examples from recent publications, news and your work. Read more on our workshop pages.