University of the Arctic Thematic Networks map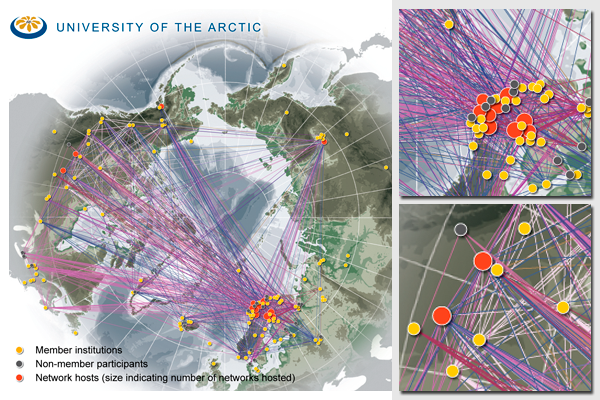 Click on the image above for high resolution view
The University of the Arctic represents a network of more than 100 institutions around the circumpolar north. Among the activities included under this umbrella are the numerous thematic networks that connect universities, other institutes of higher education and other partners, and this is represented as an overview in this map.
Map prepared for the University of the Arctic Secretariat and published in the
Shared Voices Magazine 2009 - the Thematic Networks Edition
.
The map was prepared from extensive and detailed tables of information, which had to be normalized and calculated. The locations of the participating institutions had to be investigated and pinpointed using various encyclopedic sources and information from the institutions. The actual network lines were calculated using SQL queries.
The software used in this map production was primarily ESRI ArcGIS and Adobe Illustrator, while the database of institutions and the network lines were prepared using Microsoft Access 2007. The background map was prepared by Veli-Pekka Laitinen for the University of the Arctic.
For more information, please refer to:
Do you need powerful, clear and good-looking illustrations?
Nordpil specializes in creating the best maps, charts and diagrams for high-profile publications, please contact us and describe your needs, and we will get back to you with a quote.
Would you like to learn how to prepare better maps, charts and diagrams?
In our training workshops you will learn about the theory about creating powerful visual material based on scientific data and statistics, and we discuss and deconstruct examples from recent publications, news and your work. Read more on our workshop pages.